How to come to Tours (Loire Valley)



Tours is not far from PARIS, Tours is easily accessible by all means of transport: Have a look to the localisation.

By Air

The simplest and best way to reach Tours City
Tours has a direct TGV (high speed train) connection to Paris Airport and railway station.

Paris Roissy Charles de Gaulle(CDG) => Tours 1:30
Paris Montparnasse (railway station) => Tours 0:55


There is also a small International Airport in Tours. It is just 10 minutes from the city center and the railway station of Tours. There are few connection but let us notice that Tours Airport has daily direct flights to the Stansted Airport (London) : a European hub which is connected to more than 100 cities in the continent. For more information on Tours - Stansted and further connections, please visit www.stanstedairport.comor www.tours.aeroport.fr Tours International Airport.



By Train
There are 2 railway station in Tours city : Tours Centre & St. Pierre des Corps.
Both are well connected by high speed trains to almost all the cities in France and some in Europe.


Roissy, Charles de Gaulle Airport – Tours 1:35

Paris Montparnasse (railway station) –Tours 0:55

TGV Lille (connections to London and Brussels): 2:30

TGV Bordeaux – Tours 2:16

TGV Lyon – Tours 3:00

TGV Nantes – Tours 1:40




Paris –Tours train timings
Click here for more precise information (from airports to Tours)
By Road
Situated at the crossroads of many important axes. Tours is the point of convergence of ten national highways. The major ones are as follows:
Motorway A11: from Nantes

Motorway A85: from Lyon

Motorway A10: Paris – Tours — Bordeaux (from Northeast Europe to Spain and Portugal)



PASSPORT AND VISAS
All delegates will require a valid passport (and may be a Visa) to enter France for conferences.Visas must be obtained prior to arrival in France.
All foreign nationals want to come to France must be able to submit statutory documentary evidence at the border for the reasons of their stay, their means of support and accommodation arrangements.
Under Council Regulation (EC) No 539/2001 of 15 March 2001, a certain number of nationalities are exempt from the short-stay visa requirement to enter the Schengen Area (Foreigners holding ordinary passports exempt from visa requirements).
Application or "visa" fees are payable on submitting your application; these application fees are not refunded if the visa is refused.
When the visa application is being processed, certain formalities such as the making of appointments or submission of the application may be entrusted to service providers. You should allow additional costs for this. More information can be obtained from the relevant French embassy/consulate.
More details on the visa application process is available at https://france-visas.gouv.fr.

International participants who need an invitation letter for visa processing, are requested to send an email to gbr2019@univ-tours.fr. If you don't receive a confirmation of your request within a few days, please re-send your inquiry immediately.
WEATHER

During the spring season Loire Valley gets the average high temperature of 20°C during the daytime and temperature drops down to a minimum of 5°C during night. The average humidity level in this season is around 76 percent, while it enjoys 6–9 hours of sunshine every day. Number of rainfall days in this season averages around 15 days while the average precipitation amount is 34mm in spring season.
During the conference period, the average high temperature climbs around 15°C. Evenings can see temperatures drop significantly, and warm jackets can be useful. Umbrellas are also wise as Tours receives scattered showers nearly year round.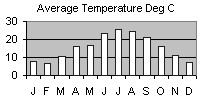 Relatively cool year round, Tours sits at an elevation of 108m above sea level. Winter (December to February) sees the coldest time in the city, with highs averaging only 5 °C to 6 °C. The hottest time of the year (July to August) still stays relatively cool with temperatures around 25 °C-. Weather in Tours rarely reaches temperatures greater than 30 °C.